Hello Dr Pike,
Thank you so much for the good work on my new shining crown. It is well and chomping away finely. I am very pleased with all your recent work focus. And feel a touch of the immortal as the two gold crowns you put in place gives me a sense that I'll have something to leave behind for posterity and such.
Blessings & Peace,
- Tom H.
---
Dear Dr Pike,
Thank you again for taking me as a patient - for your warmth and kindness during procedures, for the exceptional staff around you and just getting to know you. My time In Estes Park was indeed special. See you in a year.
- Esther
---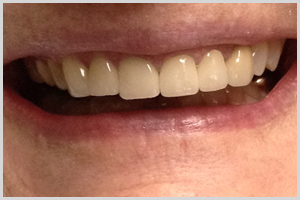 Dear Dr Pike & staff,
"No, I don't want to get new teeth, my teeth are part of who I am, I don't want to look different." This is what Dr Pike heard.. Well.....just wanted to pass on how fortunate I feel. Many of my friends told me that my teeth look SO nice. Many have said "your dentist did a great job, who do you go to?" I am so grateful that you and Earl were so encouraging and you did your best to make me happy. I AM!! My daughter (dental hygienist) is really impressed and told me many times how good my teeth look and what a good job you did. To All Of You- I feel so fortunate that all of you were so supportive. You have a great group! We are so thankful you are our teeth carers
- Earl & Earlene
---
Dear Dr Pike,
Thank you so much for your patience with me. My teeth look And feel great. I am very pleased and Ron says I have a dazzling smile :). Thank you for your kindness and for going the extra mile.
Sincerely
- Patti
---
Dr. Pike and Staff,
Thank you just doesn't seem enough to say for the courtesy and time given to me last week in your office. Working me in to your busy schedule and finding me some one to remove my tooth was too much to be expected. People like you are what make Estes such a great place to live.
-Nancy D.
---
Dear Dr. Pike and staff-
Thank you all so very sincerely. I have never been a walk in patient. In fact I've never had a health issue when traveling. I am so appreciative as your care for me was stellar. The Cephalexin enabled me to drive home in relative comfort. I had the root canal Friday. I am feeling so good that it is hard to remember the pain! But your kindness and expertise will always be remembered
Thank You
-Jeanne N.
---
I wanted to write you a quick note to say thank you so much for all your help this summer. I feel very fortunate to have found such a caring dentist. My tooth feels perfectly fine now. I leave for Thailand today, and I probably would not be going if it were not for you.
Thank you again!
-Alyssa B.
---
Just a note to thank you for all of your work on my teeth over the last months. I know you have a full patient schedule and I really appreciate that you found a way to fit me in for every step of the veneer process - from my initial panic emergency visit to the final veneer application. I also appreciate your attention to detail and obvious concern for matching my tooth color. My smile has always been a big part of my personality and I am thrilled to finally have it back. Thank you!
Fondly
-Lisa D.
---
We have never had such a fine dentist with such a dedicated staff. You are truly one of a kind dentist and staff. Thank you for your constant care and superior service
Clients forever
-Ron and Sharol L.
---
Thank you for everything you do for me..... Even on short notice. You always make my trip to Kosovo enjoyable even if just to visit you all. I really do appreciate you all!!
All my best
-Randy R.
---
I want to thank you for all you have done for me. Working so hard to fix my denture has made my life so much better. It was so thoughtful of you to do this. I will never forget you for that. If there were more people in this world like you, it would be a better place.
Sincerely
-Joyce W.
---
Thank you! You know - through the years, you've shown such consideration for my situation - and to all your patients I'm sure. You have such a happy office - I love coming there - Truly!
Thank you so much!
-Bev E.
---
We thank you so much for the beautiful spring bouquet that arrived at the rehab center. We didn't know dentists did things like that! Just proves our dentist and staff are special!
Thanks again
-Jean S.